24
10
2008
So after much anticipation and hype, the music of Yuvvraaj is out. Music Maestro Rahman and Show Man Subhash Ghai ties up again in Yuvvraaj after eight long years, in short they are back after Taal. Taal was indeed a musical success and it is said that a cassette of Taal was sold every minute in Indian Streets at that time.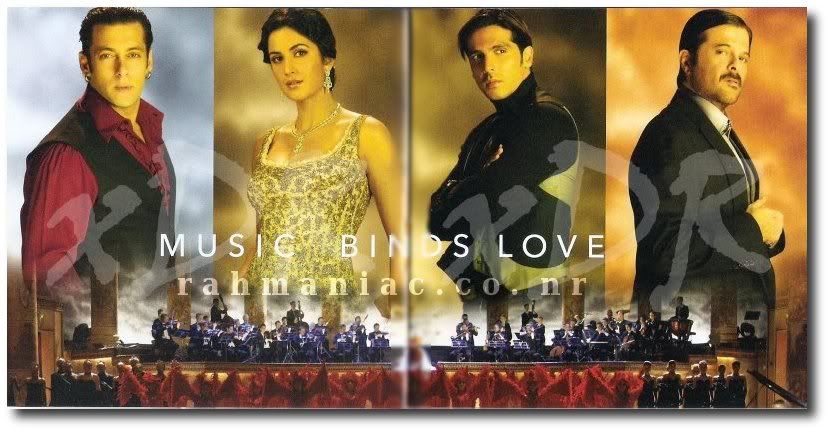 So is anyone expecting another Taal ? Indeed don't, because this musical score is extremely a different try from Rahman. Because Yuvvraaj is inspired in soul and element from European and Indian classical as well as Rahman's exclusive library of imagination. After hearing the score, one can strongly say that all songs are strictly based on it script. If Ghai could give imaginative identity to the picturization of the songs, then a sure chart buster album is in the charts.
Main hoon Yuvvraaj
The soundtrack opens with Main hoon Yuvvraaj, designed as a dialog monologue in Salman Khan's weird accent. The instrumentation of the song is based on 5th Beethoven Symphony performed by The Chennai String Orchestra. The track is nothing but to show Salman's bad boy role in the movie.
Continue reading "Yuvvraaj Music Review ~ Boss Back at Work" »
Comments :
7 Comments »
Categories :
A R Rahman
,
Facts about Rahman
,
Rahmaniac
,
Yuvraaj Music Download
,
Yuvraaj Music Release
,
Yuvraaj mp3 song download
,
Yuvraj Music release
,
Yuvvraaj
,
Yuvvraaj MP3 download
,
Yuvvraaj Music Review
,
Yuvvraaj music release